Postgraduate student's winning project: Knee Energy Harvester with Variable Transmission from Walking
The 7th Hong Kong University Student Innovation and Entrepreneurship Competition
Awardee: CHAN Hugo Hung-Tin
Award: Merit Award
Supervisor: Prof. LIAO Wei-Hsin
Project Short Description:
In this project, a lightweight cable driven human knee energy harvester is designed and tested to harvest electricity from the knee motion while walking. A variable radius drum (VRD)-cable mechanism with variable transmission ratio is used to match the generators reactive torque on the knee to that of the natural gait.  Metabolic cost testing shows no statistically significant difference between harvesting and normal walking, suggesting the harvester did not require extra effort from the user to harvest electricity. This is largely thanks to the minor amount of metabolic energy required to carry the device at just 1.2 W, achieved with the ideal placement of the harvester and a total mass of just 483 g. The use of variable transmission allowed the harvester to improve its harvesting metabolic efficiency by a statistically insignificant 4 W compared to harvesting without VRD while generating 62 % more energy at 0.39 W.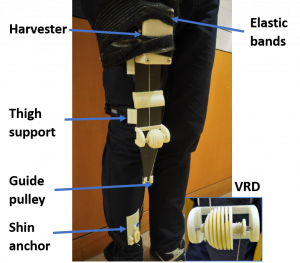 Sharing:
Through this meaningful competition, I had the opportunity to present the invention to the general public, allowing more people to learn about the goals and current achievements of the device. Through the judging round of the competition, valuable discussions with the panel of experts of different backgrounds provided a broad view of the possible methods to further develop the invention into a more successful device. All in all, the ability to share my invention brought along a strong sense of satisfaction for the work that was put into it, making this a highly treasurable experience.