Postgraduate Students' Winning Project: Miniaturized Robotic Tendon-Driven Articulated Surgical Drill for Confined-Space Bone Work
The 2021 Professor Charles K. Kao Student Creativity Awards
The 7th Hong Kong University Student Innovation and Entrepreneurship Competition
Awardees: WANG Yan, LIN Hongbin, WANG Xuchen
Project: Miniaturized Robotic Tendon-Driven Articulated Surgical Drill for Confined-Space Bone Work
Award:
First Prize in the 7th Hong Kong University Student Innovation and Entrepreneurship Competition; AND
First-runner up in the 2021 Professor Charles K. Kao Student Creativity Awards
Supervisor: Prof. AU Kwok Wai Samuel
Short Description:
Conventional surgical bone-work tools are mostly rigid and straight (some with simple pre-bent tips). On the contrary, human anatomy is highly complicated, composed of tons of irregular structures. As a result, to access deep target surgical sites, surgeons generally need to remove considerable healthy tissues, leading to substantial collateral tissue damage and thus increasing hospital stay, recovery time, postoperative pain, and incidence of complications. WANG Yan, LIN Hongbin, and WANG Xuchen, PhD students of the Department of Mechanical and Automation Engineering (MAE), supervised by Prof. AU Kwok Wai Samuel of the MAE Department, developed a miniaturized steerable surgical drill for bone work in confined space. The miniaturized dimension (Ф4.5 mm) and largely enhanced distal steerability (±65 degrees) will enable surgeons to access target surgical sites through small incisions while steering around anatomical corners. This articulated drill tip was integrated into a lightweight (200 g) pen-style handheld device, which is easy to use and integrate into existing surgical procedures. Besides, the handheld device can also be optionally mounted on a robotic arm for higher-precision autonomous control or human-robot shared control. The potential applications of the proposed device include ENT, skull base, and spine surgery.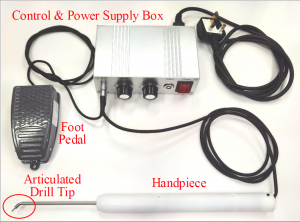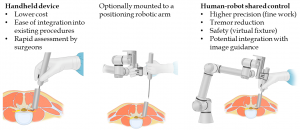 Sharing:
Through this contest, we experienced the whole process of solving a real-world problem. To make our project meaningful in real life, we first needed to understand the clinical requirement of our proposed device. As students majoring in Mechanical and Automation Engineering, we learned medical-related knowledge by reading literature. Besides, we exchanged ideas with surgeons with expertise in ENT, joint, and spine. Second, to make our design into a functional prototype, we learned how to transfer what we learned in class into practice and make things happen by working with local and overseas vendors.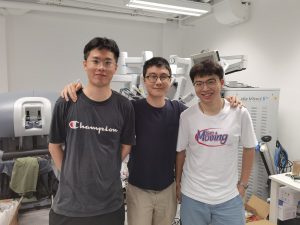 (Left: LIN Hongbin; Centre: WANG Yan; Right: WANG Xuchen)