The Toshio Fukuda Best Paper Award in Mechatronics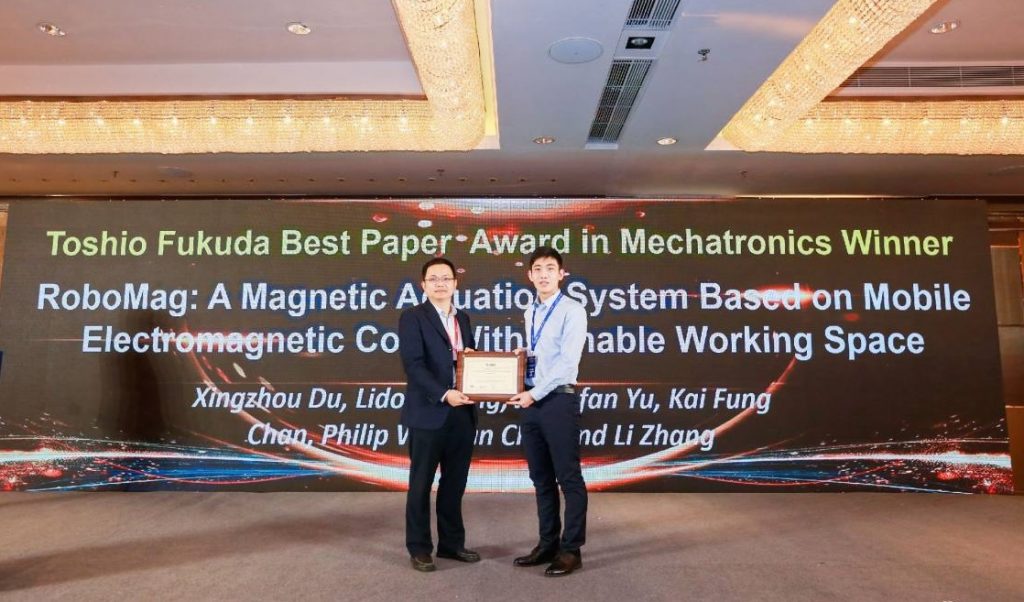 Let's give congratulations to PhD student, Du Xingzhou for receiving the Toshio Fukuda Best Paper Award in Mechatronics in the IEEE ARM 2020 Conference! Congrats!
In recent years, controlling minimally invasive medical robots through magnetic fields for diagnosis and surgery has become a focus in medical robotics. Among various magnetic actuation systems, designs based on mobile electromagnetic coils are preferable, because they can remotely control the medical robots in a wide area while avoiding obstacles flexibly and quickly. However, design and control of such systems with one or more mobile coils remain challenging.
To solve this problem, Du Xingzhou designed a magnetic actuation system based on three mobile electromagnetic coils with decoupled movements. The system consists of three 4-axis robotic arms that can adjust the relative positions of three mobile coils independently and track the position of the miniature robot inside an enlarged workspace. In the experiments, the system is able to actuate various kinds of magnetic miniature robots, for example, untethered miniature robots, microrobotic swarm, and the magnetic catheter mockup for intravascular intervention.
This research was jointly conducted by Professor Zhang Li's research group from the Department of Mechanical and Automation Engineering at the Chinese University of Hong Kong (CUHK) and the Faculty of Medicine at CUHK. It was also strongly supported by Professor Chiu Wai Yan, Philip from the Department of Surgery at CUHK, who is also the co-director of Multi-scale Medical Robotics Center (MRC), InnoHK, at the Hong Kong Science Park. The designs have been filed for a US patent. According to the plan of the research team, the follow-up technology transfer will be conducted at the MRC in the Hong Kong Science Park.