Undergraduate Student's Winning Project: Versatile Soft Robotic Upper Limb Assistive Device for the Physically Challenged
The 7th Hong Kong University Student Innovation and Entrepreneurship Competition
Project: Versatile Soft Robotic Upper Limb Assistive Device for the Physically Challenged
Awardees: SIU Shi Pan, NG Pui Hin (MAEG), LEE Tsz Yan, WONG Sin Yi (CSCI), CHEUNG So Yee (PHYS) and WONG Chi Ka (M.B., CH. B.)
Award: Third Prize
Supervisor: Prof. LIU Yun Hui
Project Short Description:
Limited mobility has always made domestic tasks difficult for the elderly and the physically challenged, especially in picking up and holding objects. Observing this need in the society, and that currently available solutions have limitations restricting widespread usage, together with the substantial potential associated with the adaptability of soft robotics, this project presents a Versatile Soft Robotic Upper Limb Assistive Device for the Physically Challenged.
This solution achieves multiple characteristics that are essential to a comprehensive upper limb assistive device but are yet possessed simultaneously by previous solutions – 1. Strength: Adopting pleated elastomer design with customized torque profile, the device can carry 1.5kg firmly without slipping; 2. Delicacy: Associated with its softness, the device can handle objects as delicate as ripe raspberry; 3. Versatility: With a bionic adhesive enhancing the performance on smooth surfaces, the gripper can manipulate objects of various sizes, shapes and textures; 4. Flexibility: The device provides two modes of control – via Inertial Measurement Unit (IMU) or via mobile application connected via Bluetooth; 5. User-friendliness: the device is an integrated solution, providing plug-and-use convenience for the users. With further testing and modification in design, the device has the potential to become a new generation of assistive devices.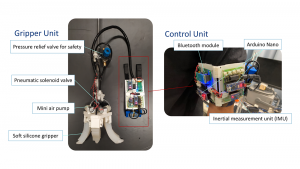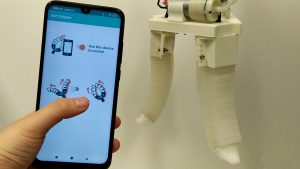 Awardees Sharing:
Apart from learning from textbooks, it is equally important to connect the theory with real world tasks, as well as hands-on experience of actualizing ideas in mind. We are very glad that in various opportunities available, for example in joining this competition, as well as other competitions like Robocon and ROV, we have had different platforms to consolidate our skills and to build a solid foundation for innovation and design.
Working with teammates from different Departments and Faculties was a rewarding experience. We benefit from having a wide range of skillset in the team, but we had to overcome disagreements in different ideas too. Good communication skills forge strong teams. We believe that we had a more in-depth understanding on this after this experience.
We are grateful to the Department and our supervisor, for the unfailing guidance and support, as well as for always encouraging us to embrace new challenges and opportunities.