Champion at the Robocon Hong Kong Contest 2022
Congratulations to CUHK's robotics team Golden Striker, including students from MAE Department, for claiming victory at the Robocon Hong Kong Contest 2022.
The 2022 Hong Kong contest featured 14 student teams from eight higher educational institutions. CUHK's team Golden Striker clinched the Championship and Best Team Spirit Award, while another CUHK team Power Builder finished in fourth place.
The theme of this year's contest, Lagori, was inspired by a traditional game widely played in South India. Each team is required to design two robots that compete with the opposing team. One robot aims to knock over a Lagori Tower made of Lagori Discs (coloured sponge blocks) by throwing soft balls at them, while the other robot tries to rebuild the tower after it has collapsed. The defensive robots (the opponent) can throw balls at the attacking side to interrupt them. The final score is calculated based on the number of Lagori Discs knocked down and piled up within 90 seconds, with the team with the highest score winning.
The Robocon Hong Kong Contest is an annual flagship event organised by the Hong Kong Science and Technology Parks Corporation, which aims to nurture local talents and take the city's innovative technologies to the international stage. Golden Striker will go on to represent Hong Kong at The Asia-Pacific Broadcasting Union (ABU) Asia-Pacific Robot Contest, to be hosted in New Delhi and held online this August.
Student Sharing
Miss SHEA Yi Yu (Team Member of Golden Striker & Student of MAEG):
"This is my second year joining the contest and working as a core member. This year, I was involved in developing the new robot base called active caster. With the help of my teammates and team leader, hard work paid off: other than cost-saving, there were also enhancements in speed and feasibility. This was one of the factors in claiming victory as the speed increased double than before.
Moreover, I am more impressed with our team's robot. It is not just a robot made of different parts. It embodies the passion and hope of each team member. I paid close attention to every demonstration as it was our first time using this type of robot base for two teams. We troubleshot and fixed lots of problems during internal practice matches to make sure "no bugs" in the robot base during the contest.
I have gained friendship and skills in the robotics team and I hope that the team will have better performance at the Asia-Pacific Robocon Contest and reach new heights."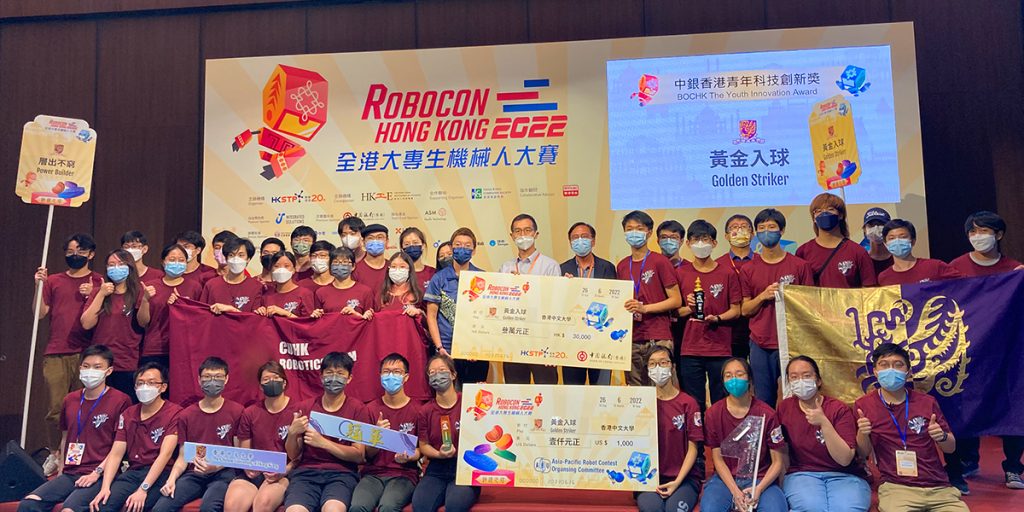 CUHK's robotics team Golden Striker clinched the Championship and Best Team Spirit Award at the Robocon Hong Kong Contest 2022.
During internal practice matches before the contest, students have identified weaknesses of their robots and come up with new tactics to reach new heights.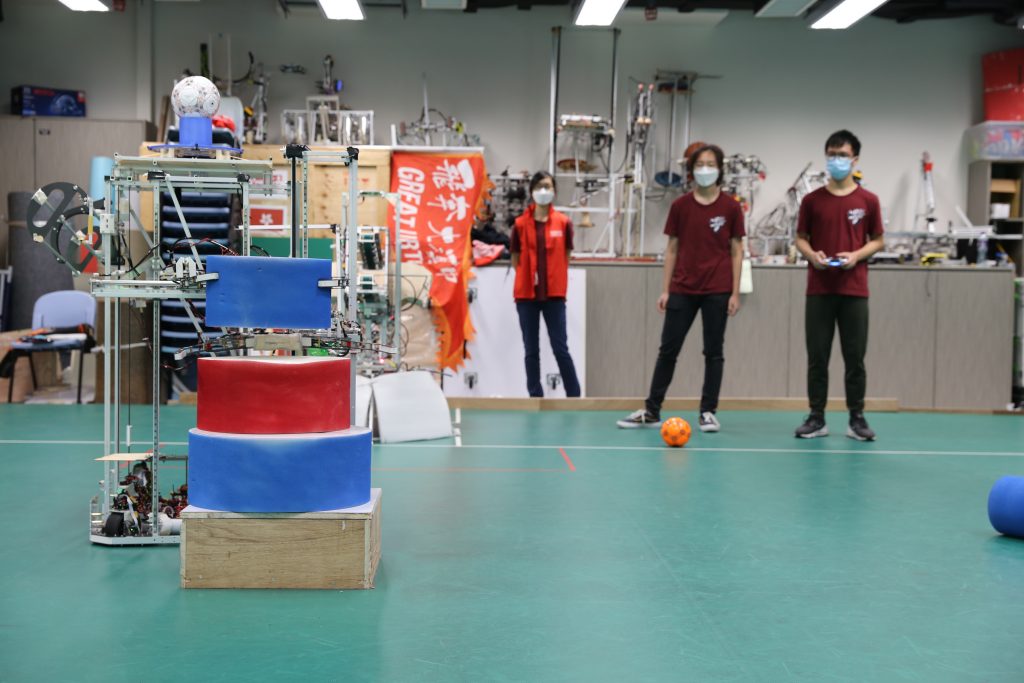 The team implements new technologies to increase the speed and maneuverability of their robots, including a new 360-degree rotation wheel system and a dual gripper shown in this picture.
CUHK Press Release: Click here!
Introduction videos of the two teams: